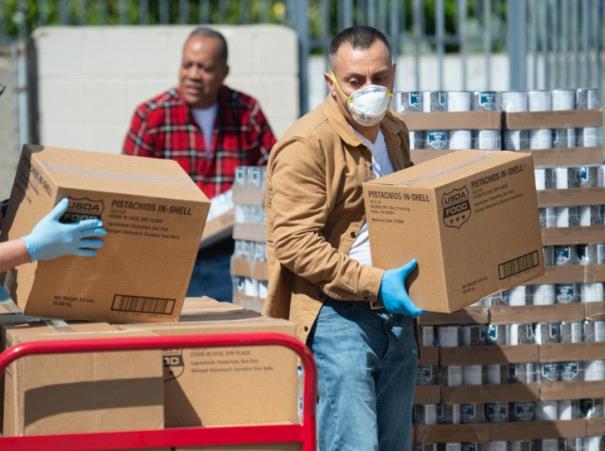 A message from WDACS
Our mission is to deliver caring services that empower people, communities and businesses to grow, succeed, and thrive. We achieve this through effective partnership driven services that:
Connect individuals to careers, while meeting the workforce needs of growth industries;
Ensure the safety and well-being of older and dependent adults in their communities;
Offer vibrant community and senior centers that empower and connect residents; and
Resolve conflict and improve human relations in our diverse County.

11,893,504
meals served to older adults

1,721,789
pounds of food distributed via Center's Pantry Service

5,382
business served via Disaster Help Cente

108,811
services provided through AJCCs
* Date as of Jul 2020 - present
News

LA County WDACS releases report on COVID-19 impact on local economy, recommendations to strengthen data-driven economic recovery efforts
COVID's job losses and business hardships hit economically disadvantaged hardest; recovery plans can address equity issues and create a better life for all LOS ANGELES, CA – Today, the Los Angeles County Department of Workforce Development, Aging and Community Services
Read More

LA County Awards $46 Million in CARES Act Funding to more than 1,400 Small Businesses in Economically Disadvantaged Communities
Critical funding helped to save an estimated 5,700 jobs and $99.5 million in retained revenue LOS ANGELES, CA – Today, the County of Los Angeles announced that $46.2 million of federal CARES Act funding has been distributed to more than 1,400 community-based businesses to he
Read More
MORE NEWS
Upcoming Events
1 event,
Special Virtual Meeting Who was behind the January 6th Insurrection at the U.S. Capital? For more information, click here.
---
Locate Our Services
Alhambra AJCC
2550 W Main St, Alhambra, 91801
(626) 677-2600
Antelope Valley Comprehensive AJCC
1420 W Ave I, Lancaster, 93534
(661) 726-4128
Baldwin Park AJCC
4640 Maine Ave, Baldwin Park, 91706
(626) 856-4125
East LA/West San Gabriel Valley Comprehensive AJCC
5301 Whittier Blvd Los Angeles 90022
(323) 887-7122
East San Gabriel Valley Comprehensive AJCC
14101 E Nelson Ave La Puente 91746
(626) 934-5700
Northeast San Fernando Valley AJCC
12502 Van Nuys Blvd Pacoima 91331
(818) 482-1754
Palmdale AJCC
38510 Sierra Hwy Palmdale 93550
(661) 265-7421
Pomona Valley Comprehensive AJCC
264 E Monterey Ave Pomona 91767
(909) 242-7999
Rancho Dominguez Comprehensive AJCC
2909 E Pacific Commerce Dr Compton 90221
(310) 762-1101
Rio Hondo Comprehensive AJCC
10400 Pioneer Blvd Santa Fe Springs 90670
(562) 946-2237
Santa Clarita AJCC
20730 Soledad St Santa Clarita 91351
(661) 298-0152
Slawson AJCC
5500 Rickenbacker Rd Bell 90201
(323) 729-6400
South LA AJCC
1600 W Imperial Hwy Los Angeles 90047
(323) 241-5016
Southeast LA Comprehensive AJCC
2677 Zoe Ave Huntington Park 90255
(323) 586-4700
Veterans AJCC
8051 Arroyo Drive Montebello 90640
(626) 927-5430
West Covina AJCC
933 S Glendora Ave West Covina 91790
(626) 814-8234
West Los Angeles AJCC
5446 Sepulveda Blvd Culver City 90230
(310) 309-6000
Whittier AJCC
9401 Painter Ave Whittier 90605
(562) 907-6995
Willowbrook AJCC
11737 Wilmington Ave Los Angeles 90059
(323) 564-5021
Altadena Community Center
730 E Altadena Dr, Altadena, 91001
(626) 398-6174
Altadena Senior Center
560 E Mariposa St, Altadena, 91001
(626) 798-0505
Antelope Valley Senior Center
777 W Jackman St, Lancaster, 93534
(661) 726-4400
Asian Service Center
14112 S Kingsley Dr Gardena 90249
(310) 217-7300    
Centro Maravilla Service Center
4716 E Cesar E Chavez Ave Los Angeles 90022
(323) 260-2804    
East Los Angeles Service Center
133 N Sunol Dr Los Angeles 90063
(323) 260-2801    
East Rancho Dominguez Park and Community
15116 S. Atlantic Ave Compton 90221
(310) 603-7401    
Florence Firestone Service Center
7807 S Compton Ave Los Angeles 90001
(323) 586-6502    
Los Nietos Community and Senior Center
11640 E Slauson Ave Whittier 90606
(562) 699-9898    
Potrero Heights Park Community and Senior Center
8051 Arroyo Dr Montebello 90640
(626) 927-5430    
San Gabriel Valley Service Center
1441 Santa Anita Ave South El Monte 91733
(626) 575-5431    
San Pedro Service Center
769 W Third St San Pedro 90731
(310) 519-6091    
Santa Clarita Valley Service Center
26111 Bouquet Canyon Rd., Suite H001 Santa Clarita 91350
(661) 254-0070    
Willowbrook Senior Center
12915 Jarvis Ave Los Angeles 90061
(310) 217-5650    
Azusa Senior Center 0001
740 N Dalton Ave Azusa 91702
Joslyn Adult Center 0001
1301 W Olive Avenue Burbank 91506
(818) 238-5357
McCambridge Park 0002
1515 Glenoaks Blvd Burbank 91504
(818) 238-5365
Tuttle Senior Center 0003
1731 North Ontario Burbank 91505
(818) 238-5367
Blaisdell Community Center 0001
440 S College Avenue Claremont 91711
(213) 838-4519 /800-824-0780
Joslyn Senior Center 0002
660 N Mountain Ave Claremont 91711
Culver City Senior Center Nutrition 0001
4095 Overland Ave Culver City 90232
(626) 812-5204 x5355
Roxbury Park Senior Nutrition 0002
471 S Roxbury Drive Beverly Hills 90212
(818) 238-5357
Jack Crippen Senior Center 0001
3120 N Tyler Avenue El Monte 91731
(818) 238-5366
Lawndale Senior Citizen Center 0003
14700 Burin Ave Lawndale 90260
(818) 238-5367
Nakaoka Community Center 0001
1670 W 162nd Street Gardena 90247
(909) 399-5367
Rowly Park Senior Club 0004
13220 S Van Ness Ave Gardena 90249
(909)399-5488
Gardena Senior Day Care Center 0002
14517 Crenshaw Blvd Gardena 90249
(310) 253-6712 (Temp)
Adult Recreation Center 0001
201 E Colorado St Glendale 91205
(626) 580-2210
Pacific Community Center 0004
501 South Pacific Ave Glendale 91203
(310) 973-3270
Sparr Heights Senior Center 0002
1613 Glencoe Way Glendale 91208
(310) 217-9552
Inglewood Senior Citizen Center 0001
111 North Locust Street Inglewood 90302
(310) 217-9555
Norwalk Senior Center 0002
14040 San Antonio Dr Norwalk 90650
Norwalk Social Services Center 0010
11929 Alondra Blvd Norwalk 90650
(310) 217-9550
Palomares Park 0003
499 E Arrow Hwy Pomona 91767
(818) 548-3775
Washington Park 0002
865 E Grand Ave Pomona 91766
(818) 548-3773
South El Monte Senior Center 0001
1415 Santa Anita Ave South El Monte 91733
(562)924-6509
West Covina Senior Center 0001
2501 E Cortez West Covina 91791
(562) 334-1779
Ladera Park Senior Center 0004
4750 W 62nd St Los Angeles 90056
(323)771-1779
East Los Angeles Service Center 0006
133 N Sunol Drive Los Angeles 90063
(562) 866-7510
Florence-Firestone 0008
7807 S Compton Ave Los Angeles 90001
(562) 599-7165
Franklin D. Roosevelt Park
7600 Graham Avenue Los Angeles 90001
(562) 916-8555
Salazar Park 0005
3864 E Whittier Blvd Los Angeles 90023
(323) 887-4430
YWCA (C-1 Meal Site)
4315 Union Pacific Ave Los Angeles 90023
(323) 771-2041
YWCA GLA Walnut Park
7515 Pacific Blvd Walnut Park 90255
(310) 605-5888
Artesia A- South Asian Meals
18750 Clarkdale Ave Artesia 90701
(562) 862-8800
Bellflower Nutrition Site (30) 0002
16614 S Clark Ave Bellflower 90706
(323) 260-2801
California Commuity Recreation Center 0004
1550 Martin Luther King Blvd Long Beach 90813
(310) 603-7401
Cerritos Nurrition Site (50) 0005
12340 South St Cerritos 90703
(562) 429-4283
Commerce Nutrition Site (30) 0007
2555 Commerce Way Commerce 90040
(562) 599-7185
Downey Nutrition Site (90) 0008
7810 Quill Dr Downey 90242
(562) 586-6502
El Dorado Park 0009
2800 Studebaker Road Long Beach 90815
(652) 420-2641 x 238
Ethnic Cambodian Cuisine Calif 0010
1550 Martin Luther King Blvd Long Beach 90813
(562) 428-6538
Hawaiian Gardens Nutrition Site 0011
21815 Pioneer Blvd Hawaiian Gardens 90716
(562) 806-5400 x 154
Houghton Park 0012
6301 Myrtle Ave Long Beach 90805
(323) 584-6218
Long Beach Senior Center 0013
1150 E 4th St Long Beach 90802
(562) 570-3520
Paramount Nutrition Site (84) 0015
14400 Paramount Blvd Paramount 90723
(310) 886-0416
Weingart Senior Center 0017
5220 Olivia Ave Lakewood 90712
(323) 562-7043
Bell Gardens Nutrition Site (30) 0001
6722 Clara St Bell Gardens 90201
(562) 220-2090
Phillip Murray's Place/Bell 0003
4324 Florence Ave Bell 90201
(323) 586-6222
Leo P. turner Community Center/Cudahy 0006
4835 Clara St Cudahy 90201
(323) 266-3100
Dollarhide Neighborhood Center 0002
301 N Tamarind Ave Compton 90220
(323) 563-6202
E. Rancho Dominguez Service Center 0004
15116 S Atlantic Blvd Compton 90221
(562) 630-6210
Human Services Association Executive Offices
6800 Florence Ave Bell Gardens 90201
(310) 217-5650
Huntington Park Community Center
6925 Salt Lake Ave Huntington Park 90255
(323) 415-6057
Lynwood Senior Center 0014
11329 Ernestine Ave Lynwood 90262
(213) 516-3575
Maywood Communnity Center 0005
4801 E 58th St Maywood 90270
(323) 298-6039
South Gate Senior Center 0011
4855 Tweedy Blvd South Gate 90280
(310) 412-4362
Willowbrook Sr. Center 0009
12915 Jarvis Ave Los Angeles 90061
(323) 937-5843
Fairfax Towers 0002
1222 N Fairfax Ave West Hollywood 90069
(323) 848-6580
Plummer Park 0001
7377 Santa Monica Blvd West Hollywood 90046
Bouquet Canyon Senior Apartments 0004
26705 Bouquet Canyon Rd Saugus 91350
(562) 929-5544
Bella Vida
27180 Golden Valley Rd Santa Clarita 91350
(909) 620-2305
Antelope Valley Senior Center
777 W Jackman Street Lancaster 93534
Palmdale Senior Center
930 E Avenue Q-9 Palmdale 93550
(626) 798-0505
Sorensen Park Senior Neighborhood Center
16801 East Avenue P Palmdale 93591
(626) 813-5245
Twin Lakes Community Church
17213 Lake Los Angeles Ave Palmdale 93591
(626) 333-0959
Adventure Park 0001
10130 Gunn Ave Whittier 90605
(626) 827-3616
La Mirada Activity Center 0002
13810 La Mirada Blvd La Mirada 90638
(626) 357-3513
Los Nietos Neighborhood Center
11640 E Slauson Ave Whittier 90606
(626) 744-7300
Mayberry Park/South Whittier 0003
13201 E Meyer Road Whittier 90605
(626) 458-4455
Pico Rivera Senior Center 0005
9200 Mines Avenue Pico Rivera 90650
(626) 335-6941
Whittier Senior Center 0007
13225 Walnut Street Whittier 90602
(626) 855-1570
Santa Fe Springs Neighborhood Center
9255 S Pioneer Blvd Santa Fe Springs 90670
(909) 596-8778
Carson Community Center 0001
801 E Carson Street Carson 90745
(626) 307-1395
Hawthorne Senior Center 0003
3901 El Segundo Blvd Hawthorne 90250
(818) 361-0034
Lennox Park Senior Center 0002
10828 Condon Ave Lennox 90304
(323) 887-1699
Perry Park Senior Center 0004
2301 Grant Ave Redondo Beach 90278
(323) 780-9400
YMCA Torrance-South Bay 0002
2900 W Sepulveda Blvd Torrance 90505
(626) 685-6751
Veteran's Park Senior Center #0003
309 Esplanade Redondo Beach 90277
(626) 927-5430
Altadena Senior Center 0016
560 E Mariposa Street Altadena 91001
(909) 394-6298
Baldwin Park Senior Center 0002
4100 Baldwin Park Blvd Baldwin Park 91706
(626) 308-2823
Bassett Park Senior Center 0001
510 N Vineland La Puente 91744
(626) 355-0256
Covina Senior Center
815 Barranca Ave Covina 91723
(626) 934-7461
Duarte Senior Center 0010
1610 Huntington Drive Duarte 91010
(626) 579-0461
Jackie Robinson Community Center 0017
1020 N Fair Oaks Avenue Pasadena 91103
(626) 744-6530
Alhambra Joslyn Adult Center 0004
210 N Chapel Alhambra 91801
(909) 598-6200
Glendora La Fetra Center for Seniors 0008
333 E Foothill Boulevard Glendora 91740
(661-948-2320
La Puente Senior Center 0015
16001 E Main Street LA Puente 91744
(706) 662-3796
La Verne Community and Senior Center 0011
3680 D Street La Verne 91750
(661) 309-7636
Langley Senior Center 0013
400 W Emerson Avenue Monterey Park 91754
(661) 267-5904
Las Palmas Park
505 S Huntington St San Fernando 91340
(661) 259-9444
Montebello Senior Center 0004
115 S Taylor Avenue Montebello 90640
(661) 264-1249
Casa Maravilla 0001
4848 Colonia de las Rosas East Los Angeles 90022
(661) 264-1215
Pasadena Senior Center 0018
85 E Holy Street Pasadena 91103
(626) 448-0131 x3253
YWCA of San Gabriel - Potrero Heights
8051 Arroyo Drive Montebello 90640
(562) 318-8124
San Dimas Senior Center 0007
201 E Bonita Avenue San Dimas 91773
(562) 947-8787
San Gabriel Senior Center 0006
324 S Mission Drive San Gabriel 91776
(562) 699-9873
Sierra Madre Senior Center 0019
222 W Sierra Madre Blvd Sierra Madre 91024
(562) 944-8483
Partners In Care Foundation Executive Offices
732 Mott St. #150, San Fernando, 91340
(310) 349-1652
USC/LA Caregiver Resource Center Executive Offices
3715 McClintock Ave., Los Angeles, 90089
(310) 349-5439
Santa Clarita Valley ommittee On Aging Corporation Executive Offices
27180 Golden Valley Rd, Santa Clarita, 91350
(661) 259-9444
WISE and Healthy Aging Executive Offices
1527 4th Street, 2nd Floor Santa Monica 90401
(310) 394-9871
Center for Health Care Rights Executive Offices
520 S Lafayette Park Pl Los Angeles 90057
(424) 247-8142
Bet Tzedek Legal Services Executive Offices
3250 Wilshire Blvd., 13th Fl. Los Angeles 90010
(323) 939-0506
Special Service for Groups Executive Offices
515 Columbia Ave #100 Los Angeles 90017
(626) 331-5366
Human Services Association Executive Offices
6800 Florence Ave. Bell Gardens 90201
(562) 806-5400
Santa Clarita Valley ommittee On Aging Corporation Executive Offices
27180 Golden Valley Rd Santa Clarita 91350
(661) 259-9444
Southeast Area Social Services Funding Authority Executive Offices
10400 Pioneer Blvd., Ste. 9 Santa Fe Springs 90670
(562) 946-2237
WISE and Healthy Aging Executive Offices
1527 4th Street, 2nd Floor Santa Monica 90401
(310) 394-9871
Consulting Nutritional Services Executive Offices
31225 La Baya Dr Suite 201 Westlake Village 91362
(818) 874-9626
Region I Santa Monica
1527 4th Street, 2nd Floor Santa Monica, 90401
(626) 793-3510
Region II Canoga Park
16461 Sherman Way, Suite 177 Van Nuys 91406
(562) 925-2346
Region III Pasadena
2555 E Colorado Blvd Pasadena 91107
(323) 721-1343
Region IV Lakewood
4300 Long Beach Blvd., Suite 440 Long Beach 90807
(818) 837-3775
Region V Downtown LA
1493 North Montebello Blvd., Suite 104 Montebello 90640
(855) 872-6060
City of Alhambra Executive Office
210 N. Chapel St. Alhambra 91801
(626) 570-5056
City of Gardena Executive Offices
1670 W. 162nd Street Gardena 90247
(310) 217-9537
City of Norwalk Executive Offices
12700 Norwalk Blvd. Norwalk 90650
(562) 929-5580
City of El Monte Executive Offices
11001 Mildred St. El Monte 91731
(626) 580-2210
ESCAPA/Chinatown Service Center Executive Offices
767 N. Hill St., Suite 400 Los Angeles 90012
(626) 293-8733
Heritage Clinic and CAPS Executive Offices
447 N. El Molina Ave. Pasadena 91101
(626) 351-5427
Avalon Medical Development Corporation Executive Offices
100 Falls Canyon Road Avalon 90704
(310) 510-0096
Human Services Association Executive Offices
6800 Florence Ave. Bell Gardens 90201
(562) 806-5400
Jewish Family Services of Los Angeles Executive Offices
3580 Wilshire Blvd., Ste. 700 Los Angeles 90010
(213) 260-7900
ONEgeneration Executive Offices
18255 Victory Blvd. Reseda 91335
(818) 705-2345
Santa Clarita Valley ommittee On Aging Corporation Executive Offices
27180 Golden Valley Rd Santa Clarita 91350
(661) 259-9444
Southeast Area Social Services Funding Authority Executive Offices
10400 Pioneer Blvd., Ste. 9 Santa Fe Springs 90670
(562) 946-2237
Special Service for Groups Executive Offices
905 E. 8th St. Los Angeles 90021
(213) 553-1884
Bradley Multipurpose Center
10950 S. Central Ave. Los Angeles 90059
(323) 563-5639
WISE and Healthy Aging Executive Offices
1527 4th Street, 2nd Floor Santa Monica 90401
(310) 394-9871