One-on-One Business Counseling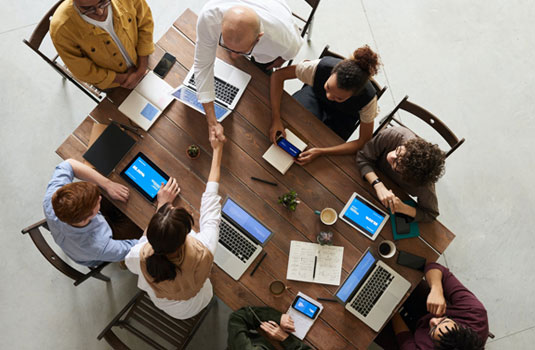 Strategic Planning
Our Business Services Representatives (BSRs) can work one-on-one with your business to identify challenges and solutions-at to help grow your business at no cost to you. BSRs will help conduct a comprehensive Business Needs Assessment. After the assessment is completed, the AJCC staff can guide you through next steps to receive services that your business may need.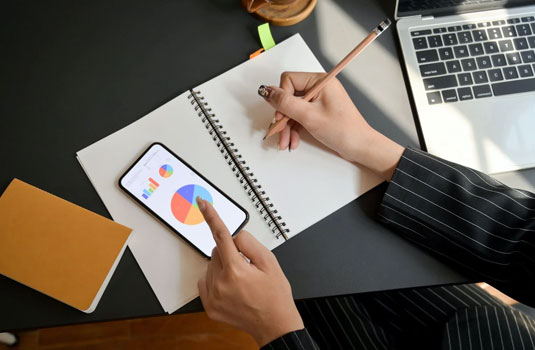 Business Development and Economic Landscape Analysis
Our AJCC staff can engage your business in strategic planning focused on workforce investment, business growth, and economic development. These activities include but are not limited to: securing information on industry trends, sponsoring employer forums, providing corporate economic development planning information, partnering to identify workforce challenges, and developing ways to address these challenges.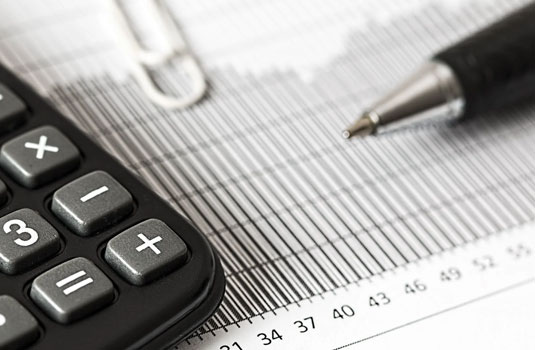 Tax Credits & Incentives
There are many tax credits and hiring incentives available to help your business grow. Our Business Services Representatives can help your business save money.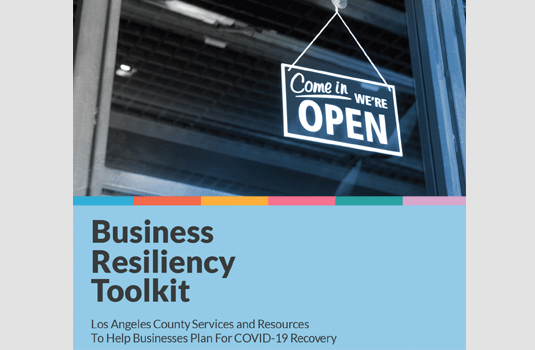 Business Resiliency Toolkit
WDACS remains committed to assisting businesses and employers impacted by the pandemic. We've partnered with other County departments and community stakeholders to provide vital recovery resources and recommendations for long-term recovery and sustainability.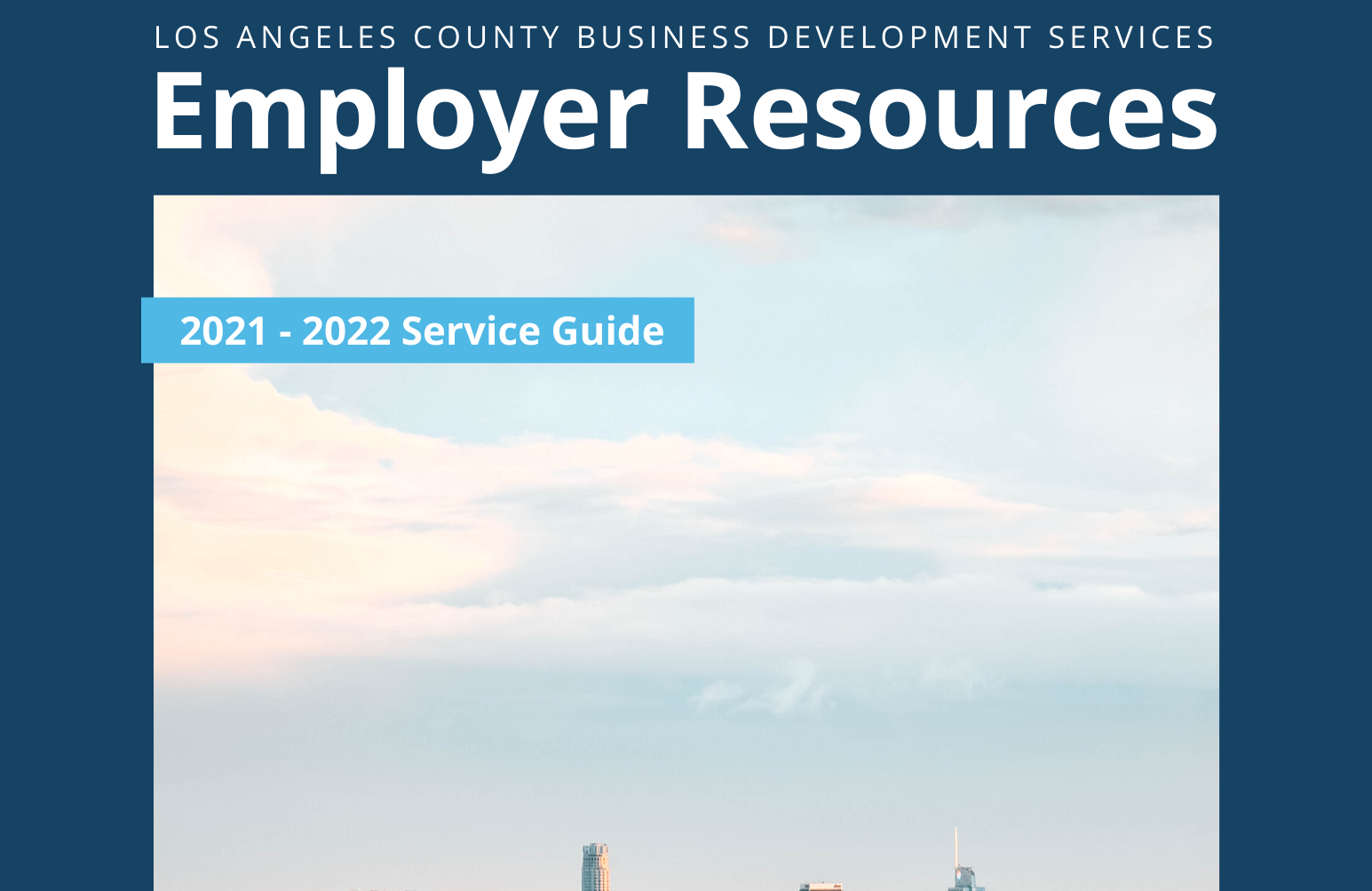 2021 Employer Service Guide
We understand managing a business is tough. Let us save you time and money. We can help find your next qualified candidate, help you apply for money-saving tax credits and help subsidize training that can upskill your workforce. What are you waiting for? Read our 2021 Employer Service Guide and fill out our new online Employer Intake Form. Once you submit an Employer Intake Form, a Business Services Representative will connect you to our wide array of no-cost business services.
Read our 2021 Employer Service Guide: www.rebrand.ly/serviceguide
Submit an Employer Intake Form: www.rebrand.ly/bizform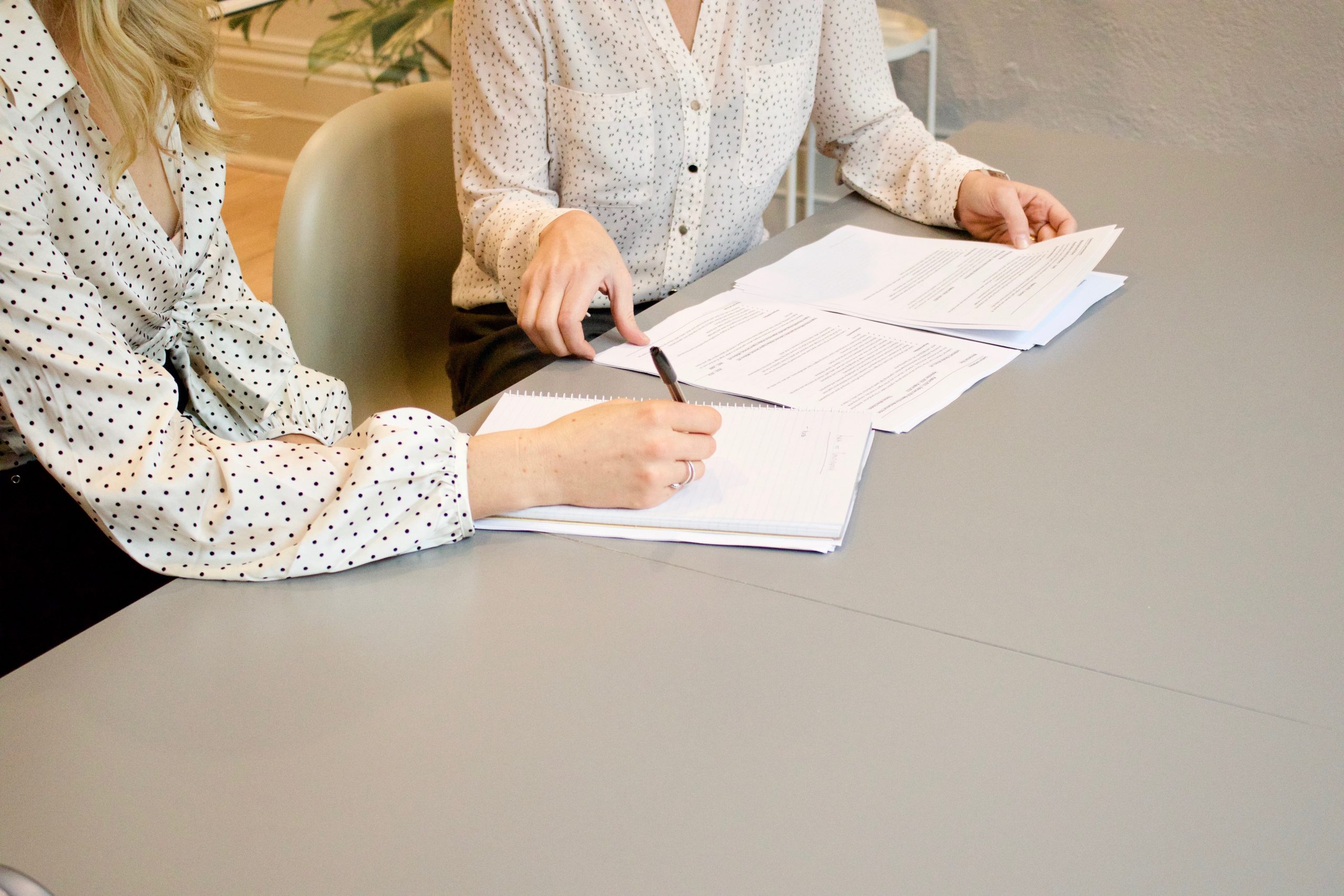 Office of Small Business
The Office of Small Business encourages entrepreneurship and helps you turn an idea into a successful business. We can connect your business to valuable contracting opportunities in Los Angeles County and beyond. We are dedicated to helping your business thrive.
Employee Development & Hiring Support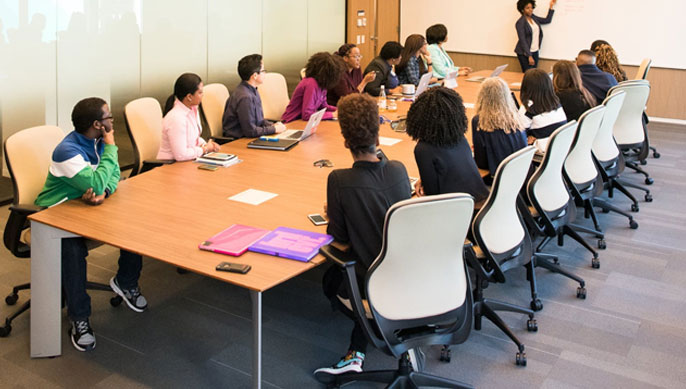 Specialized Training Programs for Your Staff
Are you looking to invest in your staff? Our AJCCs can engage your business in strategic planning focused on workforce investment to drive business growth and development. We can assist in the development of low or no cost customized training programs to build a pipeline of qualified workers to meet all your hiring needs. Save your business money and upskill your workforce by working with LA County's AJCCs.
SERVICES INCLUDE:
Coordinating an On-the-Job Training program, in which the business is reimbursed for a percentage of a new employee's wage rate while the employer trains them
Coordinating or designing an apprenticeship program
Promoting an internship program
Coordinating a paid or unpaid work experience program
Providing publicly funded customized training assistance
Connecting a business to an Employment Training Panel to upskill current workforce
Detailed information available https://www.ajcc.lacounty.gov/businesses
Employee retention/post placement program such as pre-employment testing, background checks, assistance in completing the I-9 paperwork, providing employers with job and task analysis services, absenteeism analysis.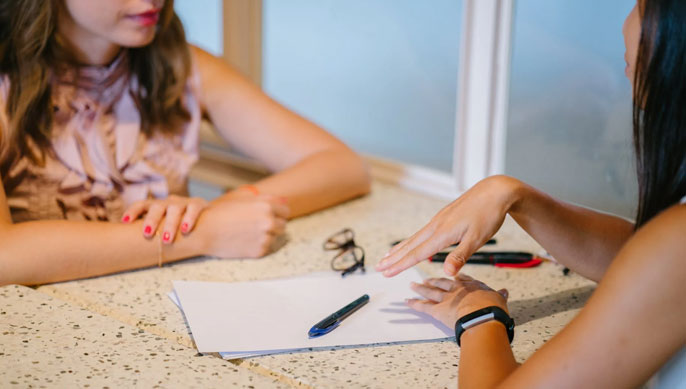 Recruitment Activities & Support Services
AJCC staff can provide you with customized screening and referral of qualified job seekers to meet your workforce investment needs.
SERVICES INCLUDE:
Conducting a resumé search to find job seekers' resumés that match an employer's job requirements and providing those resumés to the employer
Coordinating a focused recruitment campaign for a new business venture or a facility needing a large number of specialized workers
Pre-screening candidates via pre-employment testing or background checks
Distributing job postings to the AJCC network to reach more potential candidates
Coordinating a job fair for open positions
Assisting with new hire paperwork
Providing access to untapped labor pools, such as youth and veterans
Providing employers with job and task analysis services, absenteeism analysis
Facilitating job shadowing for interested candidates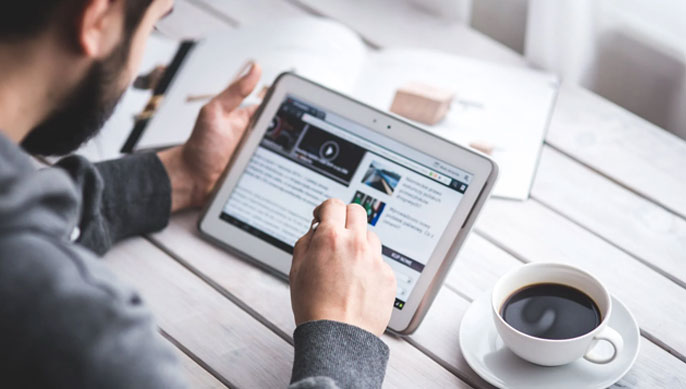 Find Talent to Hire
Your local AJCC can provide access to CalJOBS, California's online resource to help job seekers and employers navigate the state's workforce services. The enhanced system allows users to find qualified candidates for employment. AJCC staff can assist you with registering as an employer in CalJOBS, post job openings, browse résumés, keep their employee search organized, or expand their search to find good candidates for their companies.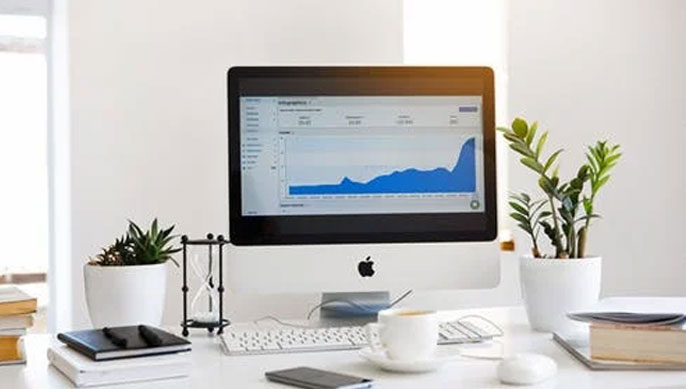 Labor Market Information
To find out specific information about national, state, or your local business area labor market information, connect with your local AJCC staff by emailing bizdev@wdacs.lacounty.gov. Staff can help you utilize the labor market information to create a business plan for expansion, relocation, or determine future hiring and training needs or refer you to a labor market information consultant who can prepare detailed occupational labor market information.
AVAILABLE DATA INCLUDES:
Economy Overview Reports
Regional Comparison Reports
Population Demographics Reports
Regional Comparisons by Industry
Regional Comparisons by Occupation
Industry Snapshot Reports
Compare Industries Reports
Industry Diversity Snapshots
Competitive Wage Reports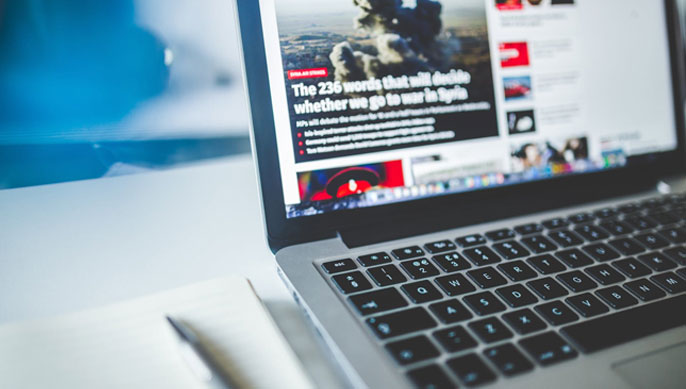 Help with Compliance with Employment Laws
Managing your business is already hard work. Researching information on ways to stay compliant on various employment laws can be time-consuming. The AJCC staff can provide or facilitate a variety of informational seminars for your businesses and staff.
TOPICS INCLUDING:
Disability Insurance
Unemployment Insurance
Employment Law: Health & Safety, Wages, Work Hours, Work Permits, Workers Comp, Fair Chance Act
Employment Taxes
Americans with Disabilities Act (ADA)
Career Pathway Programs: job shadowing, work experience sites, mentoring, speaking engagements, and employer focus groups.
Click here to learn more about different placement and on the job training programs we are working on with various organizations
Layoff Aversion & Rapid Response
If your business is facing the possibility of layoffs or closure, the LA County AJCCs can provide Rapid Response services to help minimize the impacts on affected employees and work with your business to identify preventative measures.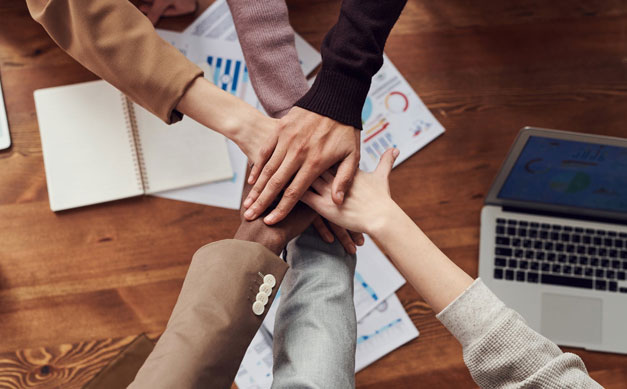 Rapid Response to Layoff or Closure
AJCC staff can provide rapid response activities in the case of a permanent closure or mass layoff at a plant, facility or enterprise, or a natural or other disaster that resulted in mass job dislocation in order to assist dislocated workers in obtaining reemployment as soon as possible.
Rapid response activities include, but are not limited to:
Establishing on-site contact with employers and employee representatives
Providing information and access to available employment and training activities
Providing an on-site presentation to employees on when to file for, how to file for, and who qualifies for Unemployment Insurance
Assisting in establishing a labor-management committee
Assessing the employment and training needs of dislocated workers, and assisting to obtain services to meet such needs
Providing emergency assistance adapted to the closure, layoff, or disaster
Assistance to the local community in developing a coordinated response and in obtaining access to state economic development assistance.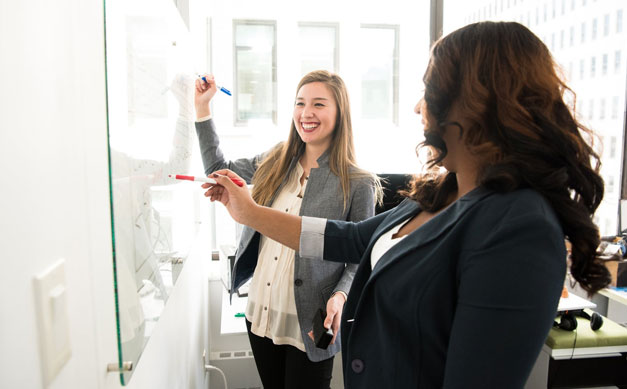 Layoff Aversion Activities
Work with the AJCC staff to access layoff aversion services designed to prevent or minimize unemployment.
These strategies include, but are not limited to, the following:
Ongoing engagement and partnership-building activities with local businesses and community to avert lay-offs
Assistance in reduction-in-force management
Fund feasibility studies to determine if the company's operations might be sustained through a buyout or other means
Develop and/or manage incumbent worker programs via connecting companies to state Short-Time Compensation or other programs to prevent layoffs
Quickly re-employ dislocated workers
Business loans for employee skill upgrading, along with other available government and local resources
Establish linkages at the federal, state, and local levels, including the Department of Commerce, state and local resources available for business retention and expansion
Partner or contract with business-focused organizations to assess risks to companies and how those risks can be ameliorated
Analyses of affected company's suppliers to assess their risks and vulnerabilities
Connect businesses and workers to short-term, on-the-job, or customized training programs, and/or apprenticeships before or after layoffs to facilitate rapid re-employment
The Board of Supervisors is committed to the promotion of economic development to stimulate job growth in the region and help lift economically disadvantaged County residents. With successful implementation of an economic development program, the County can look to incentivize the growth of small business, build a more dynamic workforce and provide targeted assistance to those individuals facing the greatest barriers to economic success.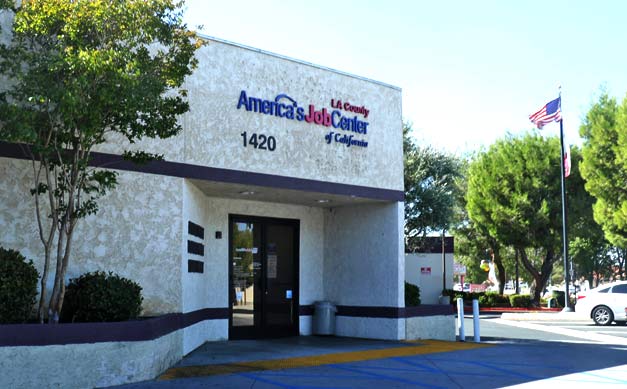 America's Job Center of California (AJCCs) offer many free tools, resources, and services that can help you find employment or training and get help with other work-related needs.AJCCs are also one stop shop for businesses- large and small- with support services such as finding talent to hire, subsidized wages programs, internships, layoff aversion programs, tax benefits and counselling and many other free services.
There are more than 20 AJCC offices in LA County. Each has a knowledgeable staff to guide and give you important tools.
Learn more about AJCCs or find a local America's Job Center of California (AJCC)