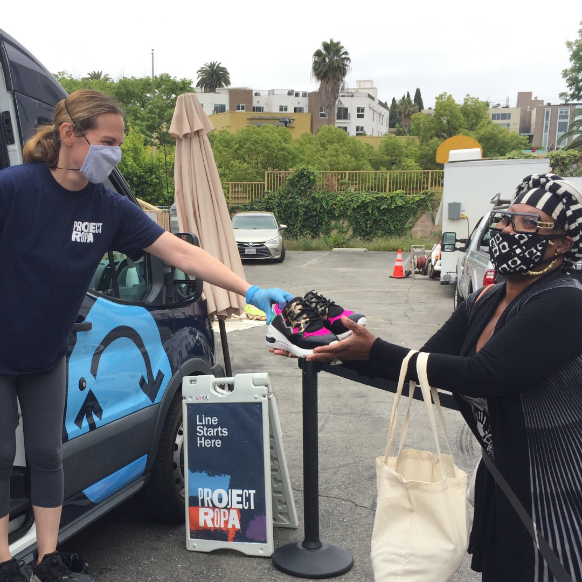 "This grant allowed us to deliver meals and groceries to hundreds of older adults, adults with underlying health conditions, and families who have tested positive for COVID. This grant has been a blessing for us, not only to keep operating and our workers employed, but to also care for those in need. Amidst worldwide struggle against this virus, being able to continue making food with love has provided joy to many in our community."
Becky Teter, Executive Minister of 5,000 Pies

"We are incredibly grateful for the CARES act grant from REDF and LA County. It has allowed us to continue operations and be able to provide hygiene essentials, PPE, food and water to hundreds of people experiencing homelessness in Los Angeles each week."
Caitlin Adler, Project Ropa

"Boys & Girls Clubs of Venice has been providing all day care for children of low-income essential workers since the beginning of July. We have pivoted our operations in ways we never thought we would to best serve our community and the families that rely on us…In addition to providing care for 80 children and teens, our Club has provided groceries and hot meals to 8,000 people facing any additional financial insecurity brought on from the pandemic…We are so grateful for the support and belief in our mission and are looking forward to helping more children and teens in 2021."
Emily Harvey, Executive Director, Boys & Girls Clubs of Venice

"The L.A. County Employer Assistance Grant provided us vital capital to stay afloat during a time when our sales dropped by 90%, and helped us continue to provide meals to older adults and the homeless."
Anthony Jolly, Hot & Cool Cafe

"Our social enterprises are experiencing a significant impact due to Covid, and without the ability to raise revenue through them, there are economic consequences to our organization. With the money from this grant, Homeboy Electronics Recycling is able to employ people from vulnerable populations and provide ongoing recycling of electronic waste."
Thomas Vozzo, CEO Homeboy Industries

"We are grateful for the support of L.A. County. As a small, women-owned business, this additional support allowed us to maintain our office space and continue to provide sustainability consulting services."
Jaime Nack, Three Squares Inc.

"The LA County Employer Assistance grant has made it possible to keep working with our Teaching Artists after schools shut down due to COVID-19. In response to school closures, Conga Kids began work on an online program; without all our Teaching Artists and staff, we would not have been able to produce, edit, or distribute our new online program."
– Natalie Marrero, Conga Kids
Businesses & Nonprofits Receive Covid-19 Financial Relief Through Employer Assistance Grant Fund
Businesses & Nonprofits Receive Covid-19 Financial Relief Through Employer Assistance Grant FundDue to the Covid-19 pandemic, local businesses and nonprofit organizations have been forced to close or significantly reduce their operations for long stretches of time and have experienced swift and enormous hardship through no fault of their own. In April, WDACS launched the Los Angeles County Employer Assistance Grant Fund (EAGF), a first-of-its-kind program in California, to provide direct financial relief to local businesses, nonprofits, and social enterprises experiencing economic hardship caused by the COVID-19 pandemic. Utilizing $500,000 in funding provided by the State Employment Development Department, and in partnership with the Robert Enterprise Development Fund (REDF), WDACS successfully distributed grants of up to $10,000 to 59 organizations across the county.
In September 2020, WDACS received an additional $47M in federal CARES Act funding that allowed the department to reopen and expand the EAGF to provide businesses in need with the opportunity to apply for one of three subgrant categories:
Pandemic Relief Funds (Up to $5,000) to help businesses offset costs related to compliance with local health orders and recommended safety measures.
General Employer Assistance Grants (Up to $30,000) to help support all Los Angeles County businesses impacted by COVID-19 for various eligible uses.
Social Impact Grant Funds (Up to $60,000) to help Social Enterprises and Social Community Business Enterprises (CBEs), which includes designations for Woman Business Enterprises (WBE), Minority Business Enterprises (MBE), and Disadvantaged Business Enterprises (DBE), or a certified B Corporation.
Through both rounds of our EAGF, WDACS disbursed $46.7 million in grants to 1,489 organizations, averted more than 6,000 layoffs, and retained an estimated $116M in revenue within the county. Additionally, 35% of funding went to organizations led by people of color, and awardees from various industries were represented in the fund, including, but not limited to, Hospitality, Travel, Entertainment, Professional Services, Education, Tech, Legal, Environmental, Healthcare, and Nonprofits.