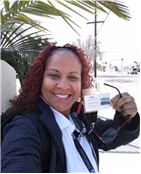 Justice-Involved Individual Obtains Full-Time Job through AJCC Training
Nelida C. was a justice-involved individual who served time for 17 years. Her transition back to civilian life and employment was difficult considering that new technology had replaced her old occupation.
Nelida visited the Pomona Valley AJCC and enrolled in WIOA with the Re-Entry Program in search of employment assistance. She received tools and resources that made her more marketable for employment. With the Business Services team and her Re-Entry Navigator, Nelida was able to acquire a Class B Driver position at in-house recruitment. Keolis Transit Services was able to provide Nelida with Class B training in order to obtain her license to start working as a driver, at which point they hired her with Foothill Transit.
Nelida is now employed full-time with overtime with Foothill Transit and happy to be of service to the community of Pomona.