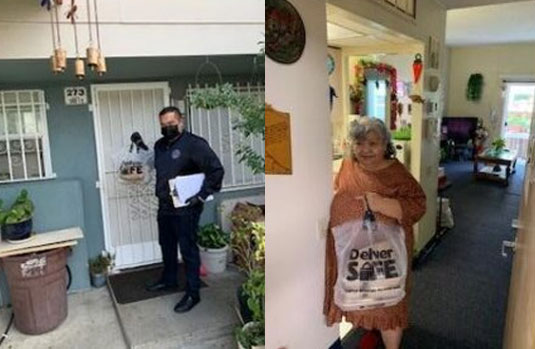 " God smiled at me when I was approved and learned Panini Kabob Grill was going to be serving me. Drivers are so accommodating with my many doctors' appointments! God bless you all! Love, love the food! We are so blessed."
Restaurant Made and Home Delivered Fresh Food For Older Adults In Partnership with Great Plates Delivered (COVID-19) Program
This note is written by Jose Jimenez, Director at Panini Grill Kabob Grill.
Once we learned the program was available through our neighbors and pastor "says Mrs. King" we were skeptical and at first thought that it would be one of those programs that it is impossible to join or be a part of.
However, as more and more information was provided by LA County, a group of us decided to give it a try. Involving our children, grandsons, and practically anyone who would be willing to help us apply for this fantastic program!
Mr. Lewis stated, "Are you being serious? Meals delivered to my house for seven days? Yes, indeed the food was delivered as promised, the drivers extremely courteous and cautious of COVID…bags sealed until we received the food and boy it was simply delicious!"
"We can't stress and say how appreciative we are to Great Plates Program at LA County, our Governor and Panini Kabob grill for making this delicious food for us daily and delivering it always with a smile and being so mindful of our at times busy schedules. We know drivers have to walk a lot, be patient as we get to our doors to happily receive our food. That meant no more laborious and difficult visit to stores, order food occasionally from restaurants and who would ever forget the iconic local delicatessens" said Ms. King.
"Thank you for taking the time to visit and for always doing your best to make sure we are doing well. At this age, there are times that we lose track of time, and frankly receiving food daily is a pleasant surprise!" as stated by Mr. Huppert.