Services & Resources
As we face this unprecedented crisis together, WDACS is here to support our most vulnerable neighbors with meals and emergency food assistance, provide job seekers, workers and businesses with federal, state, and local resources, and prevent hate during the COVID-19 crisis.
Meal Services for Older Adults and Families
To ensure older adults continue to receive critically needed meals, we are distributing packaged/frozen meals for older adults at our select congregate meal sites as we work to transition to a home delivery service. To keep you safe at home, we are transitioning to home-delivered meals at most locations.
WDACS is also providing food assistance for low-income families and older adults at select congregate meal sites through the Emergency Food Assistance Program. Click on your closest service center link below to learn more.
Great Plates Delivered
WDACS is offering a first-in-the-nation meal delivery service in LA County to assist those in need of home-delivered meals and to help get our restaurant, hospitality and transportation community back to work.
LA County is no longer accepting new clients for Great Plates Delivered. For request meal support services, please call 211
Critical Delivery Service
As a result of the COVID-19 pandemic and the California Safer at Home Initiative, older adults have an increased need for timely delivery services. WDACS has launched a temporary delivery program called Critical delivery Services (CDS) to deliver food and other vital items to individuals who are unable to leave their homes due to COVID-19.
Delivery services are reserved for those who are:
Aged 60 years and older
Individuals with a permanent or temporary disability
Call (888) 863-7411
To Request Delivery Services
Adult Protective Services
If you are concerned that some you care about may be the victim of abuse, don't be silent. Our LA County Adult Protective Services team will provide a system of in person response 24 hours a day, 7 days a week.
Call (877) 477-3646
To Report Older Adult Abuse
Support For Individuals With Cognitive Impairment
Los Angeles County and L.A. Found are here to help caregivers of those living with Alzheimer's, dementia, autism or other cognitive impairments. We are still distributing Project Lifesaver bracelets via mail. Call for caregiving support or applying for project lifesaver bracelet.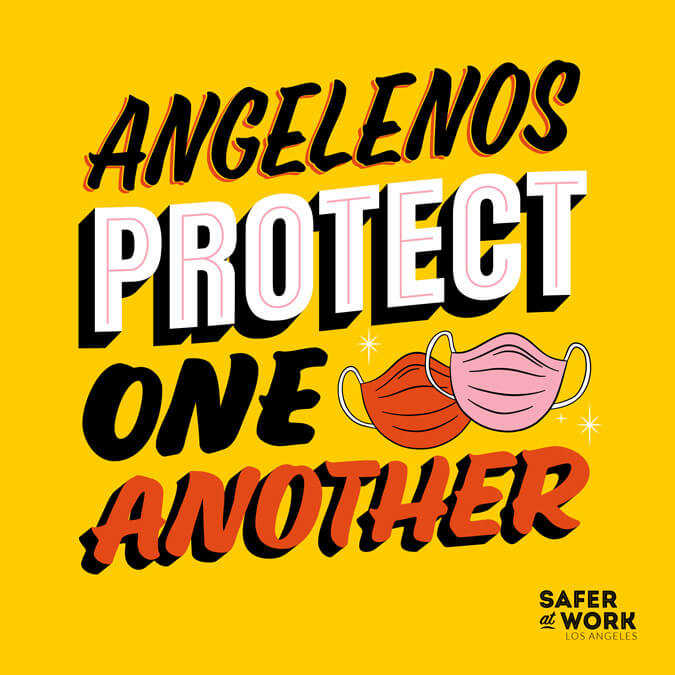 Safer at Work Los Angeles
WDACS, along with the Los Angeles County Economic Development Corporation (LAEDC) announced the Safer at Work LA campaign to prevent the spread of COVID-19 at worksites and businesses earlier today.
Through Safer at Work LA, the County is giving small businesses, micro-enterprises and essential businesses information to slow the spread of COVID while building a shared responsibility approach between businesses, employees, customers, and their communities to keep one another as safe as possible.
Safer at Work LA utilizes a three-prong approach to support employers, employees, and customers:
For employers, Safer at Work LA provides information and resources they need in order to create a safer work environment.
For employees, Safer at Work LA provides information and resources they need to protect themselves, their co-workers and customers.
For customers, Safer at Work LA provides clear and friendly directions on how to be safer patrons at our diverse businesses.
For more information about Safer at Work LA and access multilingual flyers, posters and social media graphics for your business, please visit saferatwork.la.
LA County Disaster Help Center
WDACS and DCBA, along with other County partners, have launched a new Disaster Help Center to support business owners and workers adversely affected by the COVID-19 health emergency.
Whether you are a business owner, a worker, a non-profit, a tenant or landlord, the LA County Disaster Help Center is available for immediate assistance. You can also access its free, one-on-one counseling from 8:30am to 5:30pm (Monday through Friday) and 10:00am to 3:00pm.
Online
LACountyHelpCenter.org
Email
disasterhelpcenter@lacounty.gov
Get In Touch With WDACS
Do not use this form to report elder abuse; please call the APS hotline at 1-877-477-3646 to report