WDACS Transitions to Meal Distributions as Meal Sites, Community Centers Close
The Los Angeles County Department of Workforce Development, Aging and Community Services (WDACS) is committed to keeping LA County residents informed of changes to service delivery as a result of the coronavirus.
"Thousands of seniors rely on our congregate meal programs, as well as dozens of social activities hosted at each of our Community and Senior Centers," said Otto Solorzano, Acting Director of WDACS. "Our goal is to ensure that the nutritional and social needs of our seniors continue to be met in a manner that protects their health and safety."
Congregate Meal Sites Closed Effective Today
The County of Los Angeles and the City of Los Angeles operate 180 congregate meal sites. Effective today, those sites are now closed.
To ensure older adults continue to receive meals, WDACS, along with our partners including the LA County Department of Parks and Recreation, is distributing packaged and frozen meals for older adults at our meal sites, with some locations starting today and others starting later this week. See here for a map with detailed plans for each meal site.
Older adults 65 and older must send a family member, friend, or caregiver who is under the age of 65 to pick-up meals at these sites.
Residents may call their local meal provider to make arrangements. If they do not know their meal provider, residents may call 1-800-510-2020 for assistance.
WDACS is also assessing ways to expand home-delivered meal services for seniors to reduce the need for meal distribution at our meal sites.
Community Centers Operated by County Will Close Effective Today
Effective today, the 23 Community and Senior Centers operated by the County have been closed to the public. Effective March 14th, the City of Los Angeles closed its 29 recreational senior centers and 16 multipurpose senior centers. Packaged and frozen meal distribution to seniors will occur at many of these County and City locations. See here for a map with detailed plans for each meal site.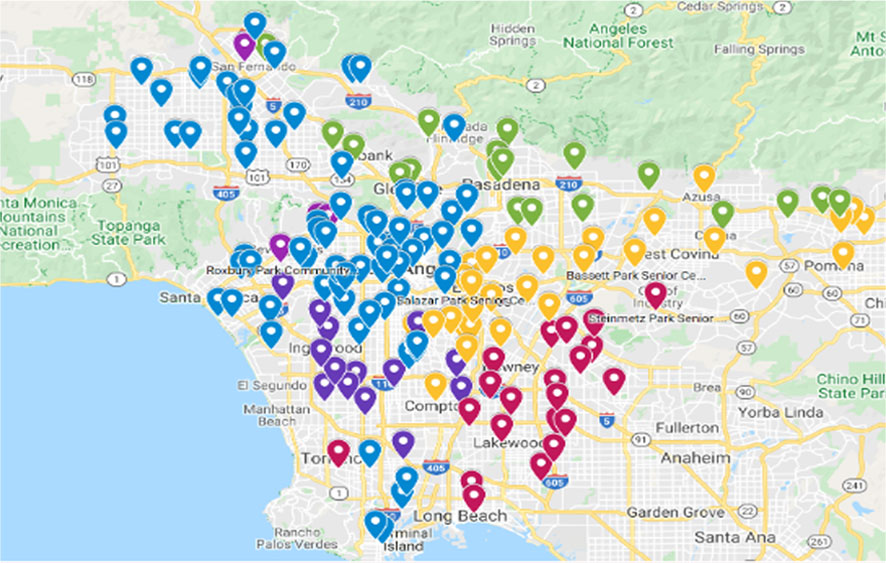 Contact:
Michael Kapp,
Director of Public Affairs
(213)-706-8140,
mkapp@wdacs.lacounty.gov